RONAWK CELEBRATES THREE-YEAR ANNIVERSARY BY HIRING A CHIEF MARKETING OFFICER AND TRIPLING STAFF
Ronawk has hired Trice Alford as its new Chief Marketing Officer and has officially become a staff of seven.  
For Release on February 8th, 2022
Olathe, KS – Ronawk, a life sciences company that accelerates the development of next-generation therapies, is celebrating its three-year anniversary. Ronawk was founded by Dr. A.J. Mellott and Ms. Heather Decker on February 8th, 2019. Ronawk started as an effort between two colleagues that wanted to create a way for their fellow scientists to accelerate research while being able to reach out to the community and build an organization that Kansas City could be proud of. Looking for a way to conduct cutting-edge research that would ultimately benefit the broader community, Dr. Mellott and Ms. Decker settled on the name "Ronawk" which is a combination of "Robin" and "Hawk", and means "Message of Healing".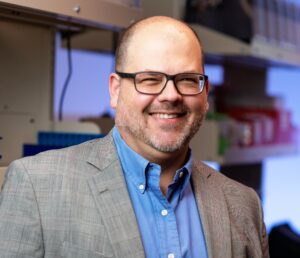 Using the technology that Dr. Mellott created in 2015, Ms. Decker and Dr. Mellott made the Bio-Block technology the cornerstone of their company. Together, they pulled their own resources and began building the company in 2019. They went to workshops, webinars, read as many texts as they could on business operations, and even found a small office to rent. Ronawk went on to be accepted into the NSF I-Corps program at Wichita State University, the E-Scholars Program at the University of Missouri-Kansas City, and SHARPHub at the University of Kansas Medical Center. Friends and Family started to notice and invest in Ronawk that first year. In 2020, Ronawk gained the attention of a family office and was able to move from a 300 sq. ft. office to a 4,401 sq. ft. manufacturing facility. In 2021, Ronawk gained more attention and more investment and was able to announce the development of a STEM Academy to build a workforce and provide a way to engage students after High School. Ronawk closed out the year, with two strategic hires to expand its executive leadership team. Now with the beginning of 2022, Ronawk has expanded its team to seven and is proud to announce the hiring of Trice Alford as its Chief Marketing Officer.
"Trice has been an outstanding addition to Ronawk's leadership team as the Chief Marketing Officer. He brings more than 25 years of experience in marketing and branding and understands how to effectively leverage online marketing platforms. Trice has really helped Ronawk reach a new level as far as marketing goes and has further developed Ronawk's brand. I cannot wait to see what Trice builds on the marketing side over the next year. Already, in a very short amount of time, Trice has greatly expanded Ronawk's presence online, and our customers and collaborators are taking notice" said Ronawk CEO and Co-Founder, Dr. A.J. Mellott.
Trice Alford, had this to say about Ronawk, "I'm incredibly excited to join the Ronawk team.  Already the team is full of leaders with tremendous levels of expertise and knowledge. I'm excited to join at this critical time of growth. Together this group will be able to do some amazing things over the coming years and I'm really proud to be a part of it."
In addition to the hiring of Mr. Alford, Ronawk has hired a research assistant and administrative assistant to help Ronawk keep up with the ever-expanding operations. As Ronawk begins its third year, the team has more than tripled in size. While Ronawk was started by Dr. Mellott and Ms. Decker, Ronawk is now a team of seven and is looking to grow even more over 2022. Ronawk's third year is looking very bright!
 Ronawk Media Contact
316.477.3055
About Ronawk
Ronawk is a Life Sciences company based out of Olathe, KS, that produces 3D bioprinted consumables that accelerate the translation of Life Sciences research into ground-breaking diagnostics and therapeutics while reducing the need for animal testing. In addition, Ronawk collaborates with multiple research groups around the world to accelerate Life Sciences research.