Kansas Representative Sharice Davids Visits Ronawk
The Ronawk team was incredibly excited to host Representative Sharice Davids of Kansas with a tour and overview of how federal programs like the America COMPETES Act will impact small businesses locally and nationally.  Ronawk currently sources all supply chain needs in the United States and manufacturers Bio-Blocks which will revolutionize the ability of life sciences and other science companies in the area of cell culture development.
"In science, and in particular cell culture, there are many hurdles in the supply chain that impact the speed, cost, and results. The opportunities the America COMPETES Act creates will help Ronawk as a manufacturer to supply customers in and outside of the US with a premium cell culture development technology. Additionally, it will help scientists all over the world accelerate research and potentially lower the cost of production for life science and pharmaceutical companies across the globe," said Dr. A.J. Mellott, CEO and Co-Founder of Ronawk.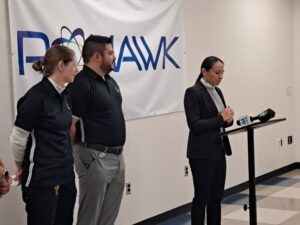 Additionally, Rep. Davids and the Ronawk team outlined how the growing needs of STEM education and the opportunities that Ronawk present to train and educate high school, undergraduate, and graduate-level students in the future are paramount to the future needs in science for young people.
"It is important to encourage and train the next generation of young midwestern scientists. At Ronawk, we understand this, and that is why we are investing our own resources to provide opportunities for the talented individuals in the area that want to go into science. We hope to help create new jobs in manufacturing and research and development for next-generation Kansans to help benefit the region and our future property, in keeping with our state's motto," said Heather Decker, CTO and Co-Founder of Ronawk.
To see more about the recent event featuring Rep. Davids, look to the link below with additional details.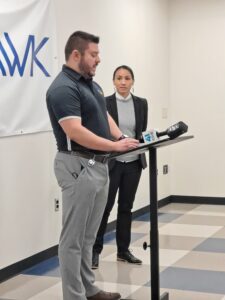 DAVIDS TOURS LOCAL MANUFACTURER TO PROMOTE SUPPLY CHAIN SOLUTIONS, WORKFORCE DEVELOPMENT
February 23, 2022 Press Release
Today, Representative Sharice Davids toured local biomanufacturer Ronawk, continuing her efforts to meet with local businesses and promote investment in supply chains, innovation, and American manufacturing. Ronawk's unique technology helps scientists advance cutting-edge research, such as the COVID-19 vaccine, and their use of domestic materials has helped them navigate ongoing supply chain issues. Davids joined leaders from Ronawk and Kansas Manufacturing Solutions (KMS) after the tour to discuss how to address inflation and help American industry compete on a level playing field against countries like China.
See more: 
https://davids.house.gov/media/press-releases/davids-tours-local-manufacturer-promote-supply-chain-solutions-workforce